Los Angeles' largest and oldest LGBTQ soccer club
WHSC Herstory
The West Hollywood Soccer Club is a 501(c)(3) nonprofit organization that began in 1985 as the Los Angeles Suns. Our founding eight players envisioned creating a team that was welcoming and served as a safe space for all LGBTQ players. WHSC quickly made a name for itself in various International Gay and Lesbian Futbol Association (IGLFA) competitions around the world, receiving bronze medals in the 1986 Gay Games in San Francisco, the 1987 IGLFA World Cup in Denver, and the gold medal in the 2018 Gay Games in Paris.
We continue to remain true to our founders' vision in creating an environment where all individuals feel welcome, regardless of their sexual orientation, gender identity or expression, race, religion, nationality, ethnic origin, political beliefs, athletic/artistic ability, age, physical challenge, and health status. Our club has become more than just a soccer club, but instead an organization that supports its members and gives back to the community.
Our club is funded by member dues, individual donors, and local businesses. Generous individuals and businesses help the WHSC provide reduced rates to practice fields, subsidized league fees, uniforms, and scholarships to tournaments.
The West Hollywood Soccer Club continues to be the premier soccer club serving the larger Los Angeles LGBTQ soccer community.
Our club is an ever-growing community. Welcome!
Gay Games 10 Gold Medal Winners
Paris, France 2018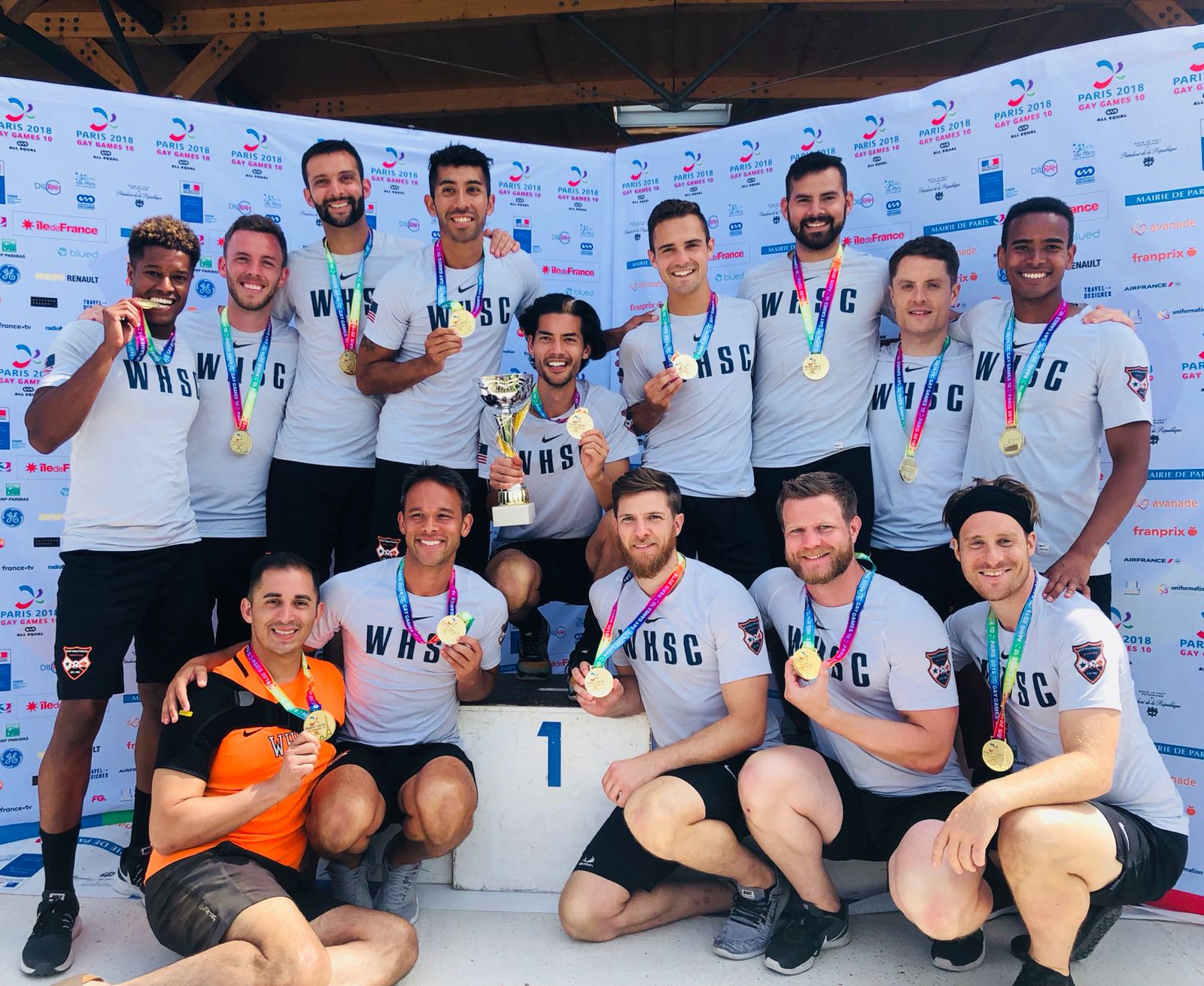 Frequently Asked Questions
How often do you play?
We offer as many playing opportunities as we can! Here are some of our most popular options:
Open Practices – we host weekly open-practices for all current and prospective players every Saturday from 3-5pm at our home field, Helen Bernstein High School. This is a great opportunity to meet other WHSC players!

Leagues – We field two teams (20 players each) to compete in our local LA County league. The two seasons – spring and fall – play every Sunday while in-season for about 10-12 weeks. We host try-outs prior to each season for interested players.

Tournaments – Our club hosts a tournament each Labor Day weekend in partnership with the West Hollywood Sports Festival (WSF). In addition to our tournament players from our club travel each year to tournaments hosted by our sister LGBTQ clubs throughout the US and the world. Tournaments are typically held in NYC, San Francisco, Chicago, Mexico City, Las Vegas, and more.
Who do you play?
Our WHSC open practices are for everyone, LGBTQ identifying people and allies. LA leagues tend to have far fewer LGBTQ players than our practices and tournaments.
How competitive is WHSC?
Whether you've never played before or you've played D1 in college, WHSC welcomes you. We have a variety of playing opportunities, that vary in commitment, skill-level, and competitiveness. We're confident you'll find something that best suits you.
Is it just gay men?
Not intentionally! While we welcome all letters of LGBTQ, like many of our peer clubs, we struggle to gain a critical mass of players who identify other than as a gay man. If you don't identify as a gay man and have input, suggestions, or help on how we can support and engage the rest of our LBTQ siblings, please let us know!
Where do you play?
You can find us most Saturdays at our home field at: 1309 N Wilton Pl, Los Angeles, CA 90028
Please refer to our field section for specific addresses and maps for all other locations.
How do I join? How do I know if WHSC is a good fit?
Sign up for our newsletter, it's how we communicate any new playing opportunities, practice reminders, and other important club announcements!

Attend an open practice! Come play and meet us. Even if you're just passing through, our field is your field. We welcome you to stop by.

Still not sure? Drop us a line.
Does WHSC do more than just play soccer?
Yes! While we were founded as a soccer club, WHSC has grown to become an active member in our local LGBTQ community. We volunteer, host LAFC/MLS watch parties, club socials, and fundraisers throughout the year. We welcome friends of the club to join us in all of our activities!